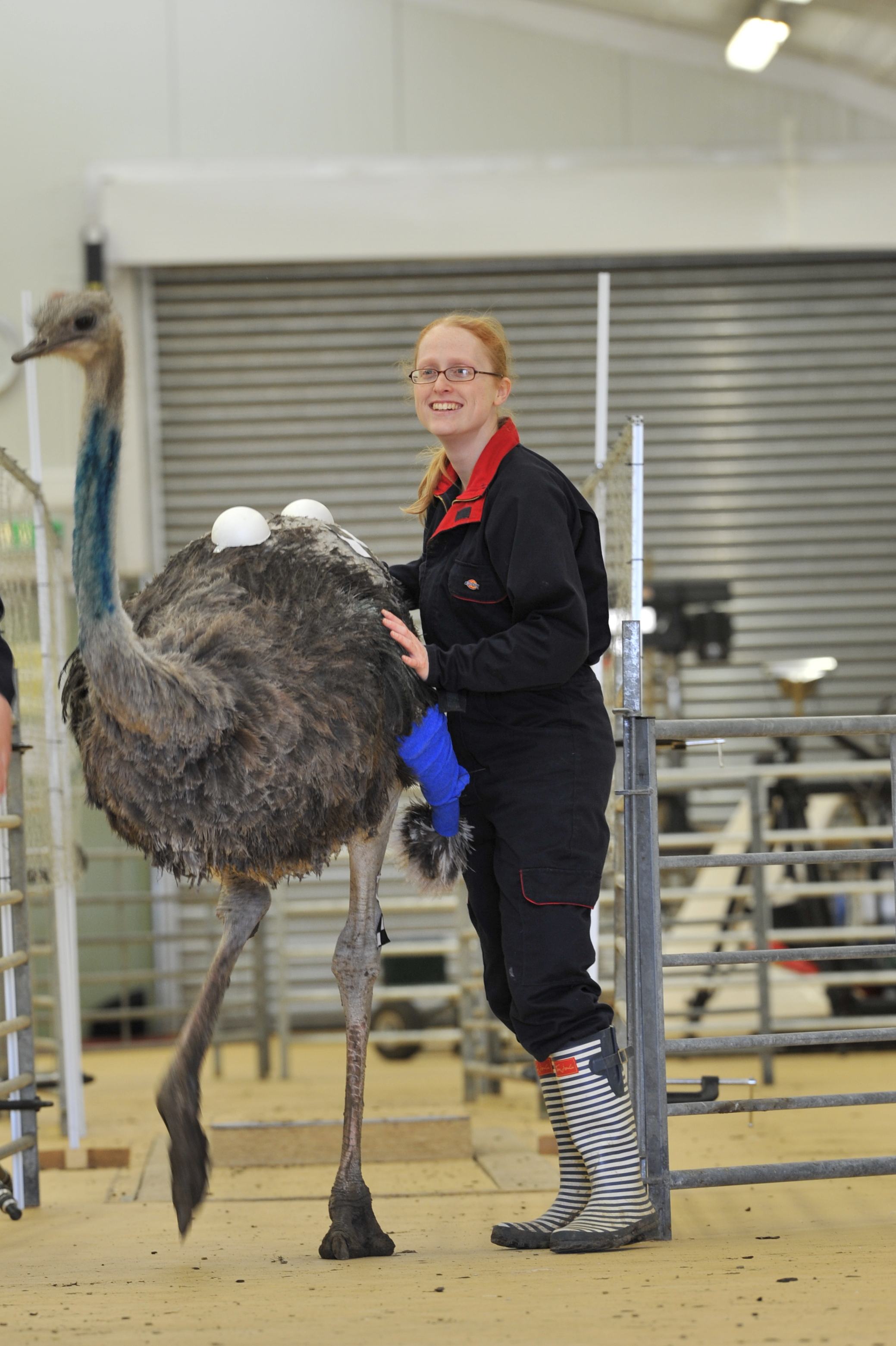 Aleksandra (Ola) Birn-Jeffery
December, 2012 to August, 2014
Ola obtained her Ph.D. from the Royal Veterinary College (RVC) with Monica Daley.

She is currently a Lecturer in Bioengineering at the School of Engineering and Materials Science in Queen Mary University of London.
Ola is generally interested in how animals move complex environments. In my lab, she examined the impact of habitat structure on gecko locomotion, but also examined the interaction between vision and locomotion.
Click HERE for Ola's website
Emily Naylor

Graduate Student (PhD)

August, 2015 to September, 2020

Emily is currently a postdoc at George Washington University in Dr. Sandy Kawano's lab

Emily's dissertation research focused on several aspects of gecko attachment, including claw function in relation to toe pads, evolutionary patterns of morphological co-variation between these features, and linking variation in performance and ecology (i.e., substrate use) at the individual level. In addition to field and collections-based research, Emily is passionate about undergraduate instruction and science outreach.



Vicky Zhuang
Graduate Student (PhD)
2012-2018
Vicky is currently the Collection Manager at UTEP Biodiversity Collections

Vicky's dissertation revolved around understanding morphological evolution in the locomotor system of geckos. To do this, she employed methods like geometric morphometrics to describe taxa in mathematical spaces, and microCT scanning to examine internal skeletal morphology.

Grace Freymiller
Graduate Student (PhD), Joint Doctoral Program between UCR and SDSU
Since August, 2016





I am fascinated by predator-prey systems, particularly predator-prey coevolution. I am interested in understanding how traits of both predators and prey (e.g. morphology, aspects of locomotion, behavior) affect success for either party. My current research is focusing on the prey side of this relationship by studying behavioral and biomechanical features of kangaroo rat evasive maneuvers in response to rattlesnake strikes.




Kevin Jagnandan
Graduate Student (PhD)
2012-2016

Currently an Assistant Professor at San Diego City College

Kevin's dissertation research utilized high-speed video, force plates, and electromyography to reveal how the locomotor system of the leopard gecko, Eublepharis macularius, is used to compensate for the rapid loss of mass that occurs with tail autotomy.




Click HERE for Kevin's website

Clint Collins
Graduate Student (Ph.D.)
2012-2016



Currently an Assistant Professor at Sacramento State University





Clint's dissertation research used gecko adhesion to test the hypothesis that novel morphological structures (toe pads) affect the evolution and ecology of gecko movement. Specifically, he quantified how adhesion varies with escape behavior in the Namib Day Gecko, Rhoptropus afer. Clint also used path analysis to examine how the coordination of movements defined locomotion across different challenges.



Click HERE for Clint's website




Kathleen Foster
2010 to 2016




Currently an Assistant Professor at Ball State University




Kathleen was a PhD student in my lab, and she studies the biomechanical and physiological processes underlying movement of vertebrates with the aim of understanding how organisms meet the diverse functional demands of locomotion in their environment. Her current research combines several in vivo and in situ techniques in an effort to understand how organisms alter muscle function to perform such a variety of activities.




Click HERE for Kathleen's website

Sean Harrington
Graduate Student (Ph.D.)
Joint-Doctoral Program with SDSU (Dr. Tod Reeder's Lab)






Sean's research focuses on clade diversification among pit vipers. He is interested in examining differential rates of speciation and morphological evolution among clades to identify the major processes that drive patterns of higher-level diversity in this group.



Jeff Olberding
2010-2013




Currently a Postdoc at UC Irvine with Manny Azizi

Jeff was an MS student in the Higham Lab. Jeff focused on two projects while a graduate student. First, he studied the biomechanics of obstacle negotiation in extremely fast lizards. Second, Jeff examined the mechanics of jumping in collared lizards




Click HERE for Jeff's website

Emily Kane
2009-2014



Currently an Assistant Professor the University of Louisiana at Lafayette



For her dissertation, Emily focused on feeding in aquatic vertebrate systems, but she has a general interest in predatory interactions. Specifically, she examined the use of the locomotor system during prey capture in fishes to determine the dynamics of the complex integration between these systems, and how organisms rely on this integration to successfully capture prey.




Click HERE for Emily's website
Elizabeth Mendoza
2015



Currently a Masters student in Daniel Moen's Lab at Oklahoma State University

There she examines how the mechanical and morphological features of the jumping apparatus in anurans of different ecological roles may be driving variation in locomotor abilities. Her research interests include: muscle physiology, biological materials, and whole organismal performance.



Click HERE for Elizabeth's website




Jennifer Shedden
2015-2016




Jen was a Chancellor's Research Fellow and Honors Student, graduating in Spring 2016

Jen is interested in terrestrial vertebrate behavior, ecology, and conservation, with a particular interest in wild canids and a lifelong fascination with California native lizards. After completing a project on the escape behavior of the granite spiny lizard (Sceloporus orcutti), a species native to the Riverside area, she plans to pursue graduate research in ecology or wildlife science

Amy Cheu
2013-2014



Currently a PhD student in Philip Bergmann's Lab at Clark University



Click HERE for Amy's website

Other Undergraduates

Azeem Rahman (2015-2016).
Angelyn Nepacena (2013-2016).
Jessica Vivas (2014-2015).
Joseph Soquiat (2013-2015).
Steven torres (2014).
Shayan Amiri (2013-2014).
Cindy Olivas (2013-2014).
Amir Azamian (2013-2014).
Kevin Dinh (2012-2014).
Stephanie Valiente (2012-2013). Sofia Iribarren (2012-2013).
Stephen Cabalatungan (2012).
Daryl Cheung (2012).
Stacy Tran (2012).
Clare O'Brien (2012).
Zachary Zboch (2011).
Christine Dumler (2010-2011).
Alice Goodman (2010-2011).
Erin Patten (2010).
Patrick Fuller (2009-2010).

Heidi Lindler (2009)
Danielle Hulsey (2009)
Katelyn Doerr (2009)